"I wouldn't suggest engineering as a career path for my child."
So you're an engineer. Maybe you have been for a long time and you have put up with a lot of grief. But still…Would you really tell your kid not to go into engineering?? Apparently 1 out of every 3 electrical/electronic engineering parents or so are. And while these numbers are better than the ridiculous ones I had first thought they were (more like 2 out of 3), they are better than the numbers coming from non-engineering parents (only 20% encourage their children to go into engineering, though it is likely ignorance). I can't stand it. Why? Because it's followed by stories about the US not having enough engineering talent. Then that story is followed by a story about H1B visas. Then THAT story is followed by a commentary about someone lamenting the situation with international workers. But it's worst when I see it on message boards and comment sections and on blogs (see all the comments on the survey page and just about any other article on EDN or EETimes these days). Then I realize it's not a statistic. It's actually people telling their kids why they shouldn't go into engineering.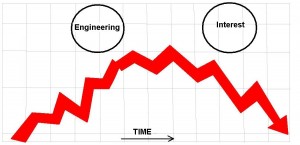 So, let's be scientific about it (engineerentific?) and look at both sides. Obviously, I'm biased about why parents shouldn't be doing this sort of thing. But I think there are some significant implications if engineers aren't cultivated from a young age by those who know the profession best.
First, let's look at your arguments against your child going into engineering:
"Business is all about finance and marketing these days!"

Oh yeah, it's true. Marketing is everywhere and it's important. I take personal interest in it and bug my friends about personal branding all the time and why I think it's important and all that stuff. But without a product, there isn't anything to sell. Nada. Without a product to sell, the bean counters and the brokers on wall street no longer have a job. Without them, everyone loses confidence in the company (for some reason) and everyone is laid off and jobs are shipped overseas or everyone shuts down. End of story. A sub-argument here would be that we need people to package and brand products that are made overseas and that the marketers can continue to do that. Well, that's true…but eventually the overseas producers are going to figure out that they can come up with and market the products too. Then it won't just be engineers asking,"Where'd all the jobs go?"

"Engineers aren't paid well enough!"

I can only imagine this would be a complaint among engineers that move up in the workplace and see other educated people continue to move up in salary for non-engineering positions. Sure, if you look at the top of the management field and the top of the engineering field, there are differences at the top. But fewer professions provide the pay that engineering offers directly out of school (with only a 4 year degree). After that, yes, you have to work harder to get to the top of the pay-scale. If  it worries you that much, go get an MBA and try out middle management.

"There's too much global competition!"
"They will never be in charge!"

I would guess disgruntled engineering parents use this reasoning because of timing (an engineer who is 50 might have a child entering college, but if they are still an engineer they may not be "in charge") and because engineers get frustrated being told what to do; it's a conflict of roles when a person gets to define how a system is built but not how much money they can spend on a widget going into the machine. However, in order to maintain a technical career sometimes you have to let others do some of the managerial tasks; it's a sacrifice that is at least in some ways necessary if you want to maintain control over technical aspects of a project. To the ones who fall under this category and wish to do it all, I would encourage you to start your own company; then encourage your children to do the same. One profession that will always have job openings is entrepreneur-ing and there are no greater sources of jobs than small businesses.

"I'd rather my child be a _________."

I know I'm kind of shouting into the void here, but do you hear yourself? No? OK, close your eyes and imagine YOUR parents telling you this. How do you feel? If there is anything an engineering parent should do, it is warning a child against potential pitfalls in an engineering education and career ("Those double integrals can be real stinkers!"), not steering them off on an alternate course. Tell them the truth about engineering, the ups and the downs. And if there are a lot of downs, maybe take a step back and consider why you are still in engineering.

"My son isn't interested in science!"

Well what about your daughter? Besides the fact that there is education assistance for women in engineering and support throughout the educational process, research has shown that more and more women are following in their father's footsteps (we're assuming here that the father is the one talking about their son's disinterest). My friend Elaine can go toe to toe with any other engineer out there and I can personally attest to the fact that she helped me get through college. Women do great things in engineering and cutting off your daughter from that greatness could rob her and the rest of the population of her future potential.
OK, I've changed your mind, right? You decided you want to encourage a young potential engineer. What do you say? What are some reasons you should be encouraging your child to follow in your footsteps?
"You get to make stuff!"
"You get to make stuff!"

How fun is that? You get to design stuff that will be used by other people! You get to make something that could last longer than you will on the planet! (hopefully as a useful product, not in a landfill). You get to wake up everyday and say "I can do anything. I can make anything. If I can imagine it (and the cost is feasible), I can build it." Hey, if you aren't excited about the prospects of working on new products, it's cool…we can always ship your job somewhere where they're excited to do that kind of work (and do it at a discount). But if the prospect of making a product excites you (it should, or else you might be reading the wrong blog…), then you should pitch this idea to children who could end up as similarly excited engineers.

"Don't worry, you can be happy without money."

Wha? Money doesn't make people happy? Well, no, it doesn't, and there are lots of studies to prove it. Sure, it makes things a little easier than NOT having money, but beyond meeting your basic needs, more money does not equate to more happiness. You don't have to belabor this point, because it won't sink in with kids. Instead, emphasize things that do matter: helping people, living simply, taking joy in your work, trying to change the world, connecting with friends, etc. All these are valuable life lessons and things that will help them in life and in their career (it won't hurt them to develop those engineering soft skills either!). They will hopefully figure out the money thing later on when they are enjoying the finer aspects of life.

"You won't be doing the same thing every day!"

This is what sold me on engineering. When I was sitting around in high school, trying to plan out a future and really not having any clue what I was doing, I decided I didn't like being bored. So that was criteria number one. I wanted something where I could do a lot of different things and not sit behind a desk without any hands-on activities. Some job or calling where I would have to keep learning and keep figuring stuff out every day. I know there are a lot of jobs that really do fall under this category, but I obviously didn't realize it at the time. What I'm trying to say here is that you are more likely to be expected to be an expert on lots of areas as an engineer (technology, science, business, etc) and that will keep you on your toes. And I like that.

"My child, look at the big picture."

If you can go to work every day and feel that you are accomplishing something that is good for you and your community (local or global), then that should be what you encourage your children to do. As an engineer, I would hope that you feel engineering provides the greatest chance to feel satisfied with how you are contributing and that it makes it worth putting up with all the things people complain about in engineering. Engineering can lead to great technical careers, great management careers or careers having nothing to do with engineering. The skills learned are invaluable in myriad professions, so there's no downside to getting an engineering degree (OK, maybe cost).
OK, so there it is. Two sides of the argument, all presented to you with the skills I learned in engineering school: unarguable logic (10(b) + 10(b) = 100(b)), beautiful prose (technical writing was taught but haikus were my forte) and massaging of data (the hyper link is the new pie-chart). See? TONS of useful skills!
Ah, and now for a bit of perspective. I have been an engineer for 5 years now (counting co-ops). That's not much, it's true. However, I am a continual optimist and I believe that I will continue to enjoy being an engineer (hell, I write about it in my spare time). I also believe that engineering will continue to offer the best option for graduates in terms of career fulfillment, compensation, job opportunity (regardless of off-shoring) and options outside of the field of engineering. Everything else I feel about this topic you can deduce from the points above, doubly so for the points dripping with sarcasm.  It should also be noted that I don't dislike other professions (nor management, which I could very well end up in some day), it's just that when I compare it to engineering I feel I made the right decision for myself at this time. So there that is. I am young and have not experienced all of the ups and downs of engineering that a veteran might encounter, but I am strongly against discouraging kids from it.
Here's what I do know. Tell your kids to make up their own minds. Point them in the right direction and let them make mistakes; don't try to protect them from a potentially great career based upon current (linear) data. I was very lucky in this regard, I have wonderful parents who were very supportive of my choices (although neither was an engineer). As mentioned above, if you are an engineer, point out the good and the bad. Steer them away from the pitfalls in both education and the working world and help to make them a better engineer. Volunteer at schools to let children other than your own know the benefits of engineering and explain to people what you do in a positive light so others know that they can positively affect the world through work in engineering.
If you have any thoughts on engineering or encouraging children in engineering, please contact me or leave them in the comments below!