I love StumbleUpon. If you don't know, it's a site that gives you random sites to visit at the click of a button. It's been around for a while now and it will ruin your afternoon or evening if you're not careful. It's also sent more than one visitor to this site before and hopefully exposed them to some analog engineering topics.
Anyway, I'm also a user of SU and have noticed a trend on the "Electrical Eng" side of things: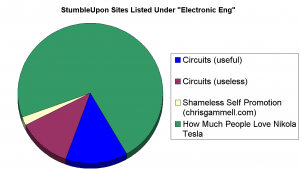 It's amazing. I love Tesla as much as the next nerd out there, but never have I seen such a recurring instance of hero worship. I suppose this many years on, the man deserves it.
So if you have a few minutes or hours to spare, click on over to StumbleUpon, check out some (ok, many) sites about Tesla and kill that productivity of yours!