I've been a bit more of a Grinch this year than I am usually at Christmas/Festivus/Hanukkah/Kwanzaa/etc. I think part of it is my worries about the economy and the rest is because I think the buying of presents is good intentioned, but kind of a waste. Once I get past my own soapbox, I often find that I end up with some thoughtful gifts from the ones I love. Let's get to the part where I am thankful for the gifts I did get:
A book — My gf was kind enough to listen to me complain about being an analog engineer and not having one of the most important books on my bookshelf. She got me Troubleshooting Analog Circuits by Bob Pease. Up until the past few months I never knew who Bob Pease was until an experience co-worker turned me onto his and Jim Williams' writings. I admire both of them for their extensive experience in the field of Analog Engineering and their friendly, down-to-earth writing style (something I try to emulate). The "Troubleshooting" tome is well known as a guide on how to specifically move towards pinpointing issues in an analog circuit. I look forward to reading it and applying it. I also hope to post a book wishlist/review list in the near future.
Tools — My parents understood that people trying to fix up a house and make it more energy efficient require tools to do so; they got me some great tools. I'm sure those tools will help me fix all the mistakes I make in the house too. I have also decided that Lowe's/Home Depot/Etc are the Toys R' Us of the "older kids".
A Chord Organ — This is a gift from previous owner of the house I bought to me…because they left it in the attic. It turns out this is a "Magnus Serenade", and so far it has been pretty hard to find any information on it.  I believe that it is a simple chord organ, similar to the other Magnus models. The idea is that you activate reeds or sets of reeds with keys or buttons (respectively) and then an electronic blower forces air across them to produce a sound. Really it's like a big accordion (without the back pain). I haven't had a chance to pull it out of the attic to try it out yet, but if it does not work, it will give me another opportunity to work on old musical instruments. The video I've included below is a similar model of chord organ…not the best sound, but definitely unique.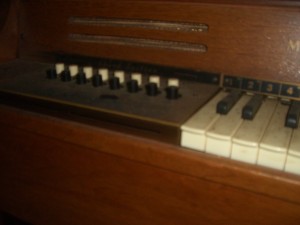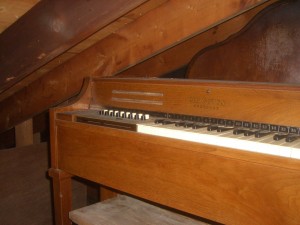 I hope everyone had a great holiday and I look forward to continuing to post in 2009!