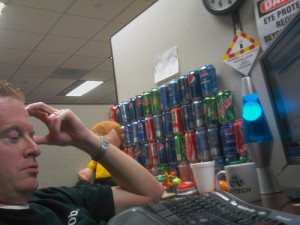 I'm pretty good at stressing myself out. Not for any particular reason; normally just because I find it's more productive than watching TV. How, you ask?
Well, starting podcasts could be one. While they are exciting at the beginning, there is invariably some work that needs to be done. I'll want to figure out how to get the recording setup to work or make the website more reliable or try and find some kind of funding for it. In the end, it's driven by my desire to put my voice on the internet, but at the base of it all, there's no reason I need to be doing this stuff.
Which brings me to my most current project. Learning about CNC machines and later purchasing one was driven from my interest in 3D printers. Yup, those shiny new machines that now seem like a walk in the park (they're not). My interest in trying out materials outside the 3D printed space, cost vs accuracy calculations and a variety of other factors pushed me towards a CNC milling machine. Subtractive instead of additive. Metal instead of plastic. But the end result was the same as podcasting: I stressed myself out.
This isn't a new phenomenon by any stretch. Really any kind of hobby is based upon similar principles. There's no reason anyone needs to build model trains or crochet funny little figurines or do artwork of Star Wars characters. Some end up on Etsy or other marketplaces that pop up, but that's hardly ever where those people start from. No, they start from being interested in the subject matter, getting into it and stressing themselves out. In a good way.
You see, when I'm talking about stress, I'm actually talking about the good kind of stress. The kind that just kind of tickles your brain and makes you want to scream and/or stay up all night figuring something out. Hell, I'm writing this post right now to try and distract my brain from thinking it needs to do just that. But this kind of stress is the basis of learning. It's necessary. It's healthy. And sometimes it sucks. The best I think I can do is to recognize the feeling, accept it and realize that there will be a treasure trove of knowledge on the other side of my struggle.
Back to work.
Thanks to slworking2 for the picture of stress